Training in Top Eleven is where you develop and enhance your players. You can focus your training sessions to target specific player attributes and skills by selecting the appropriate drills in the training session.
To begin creating a training session, first select the players that will take part. To do this, simply tap "Select Players" on the Training top screen and then add the players to train. Alternatively, use the "Select Zone" option to add groups of players based on their positions, e.g. strikers. After you have finished selecting players, tap "Done".
Now that you have selected which players to take part in the training session, you need to choose which drills to put them through. Tap "Select Drills" on the Training top screen.
There are 3 drill categories: attack, defence and physical & mental. Each category includes the drills which work to improve specific skill areas, and you can combine these drills to create your desired training session. Be aware that some drills use more condition than others.
Drag the drill you want to run and drop it in a drill slot below, labelled "Drop here". Continue dragging and dropping drills into the available slots while keeping an eye on the total condition % that the session will require.
When you are satisfied with your selection, confirm it by tapping "Done". Select "Start Training" to begin.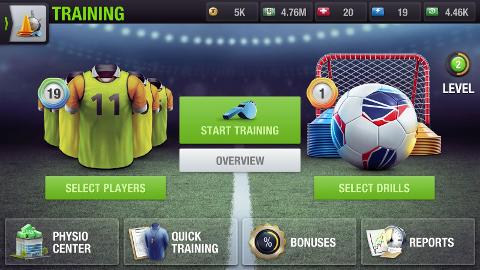 You will then see the session in progress.
Once the session is complete, you can view the results of the session including any team bonuses you earned. Team bonuses, earned by training your players, give players a boost in matches. To know more about these bonuses, see the Bonus entry in this FAQ.
Each time you train your players you gain training points. When you reach a new training level, you will have the option to unlock a new drill or upgrade previously unlocked drills, improving their efficiency.